Considering that cinema has been such a consistent presence throughout my life it struck me that, oddly, I've failed to write a single word about it on this little corner of the internet that I'm proud to call my own…
As this post marks my 30th waffle (a milestone I wasn't convinced I would reach), I thought I'd rectify this with a look at 30 films that never fail to entertain me – no matter how many times I've seen them.
I will preface this list by saying that I'm not a film critic. I don't look for the 'art' in cinema; in fact, I rarely visit actual cinemas these days, given that so many people are wilfully ignorant of others' enjoyment and find it impossible to watch a film without giving a running commentary to their friends, or checking their phone.
This is especially disrespectful when you consider that most of the audience will have had to re-mortgage their homes just to afford a bag of revels and a reasonably sized cup of watered-down Coke to make their experience enjoyable.
Without further ado here's my top 30…be aware, there be some very minor spoilers in places, so don't complain.
---
FOR KIDS
Labyrinth (1986)
The first real memory I have of loving a film to the point where I watched it on repeat.
As a small child, I walked around the house quoting large sections of dialogue to myself. I even carried a bag of plastic jewels around because I loved anything that sparkled and wanted to be Hoggle.
Fantasy, fairytales, puppets and songs. What more could you need?
Plus, who doesn't love David Bowie in jodhpurs?
The Muppet Christmas Carol (1992)
Just when you thought Michael Caine would forever be a cinematic hard man, he stuns us all with an emotional performance as Ebenezer Scrooge; starring alongside Kermit the Frog.
For many years I made it my Christmas Eve tradition to watch this film to put me in the mood for Christmas Day. The music makes me happy, and Christmas is probably one of the few times of the year when I feel a genuine warmth towards strangers as well as family.
Enjoy it while it lasts, folks.
Alice in Wonderland (1951)
"If I had a world of my own, everything would be nonsense."
This is the film that kick started my obsession with Alice.
I always found the idea that you could fall into a land fuelled by your imagination completely amazing, and it definitely played a part in my love of the weird and wonderful as I grew up.
By the time I turned 30 years old, my calf was adorned by a colourful combination of characters and elements from Alice's universe including the Cheshire Cat, pansies, the Mad Hatter's top hat, and red roses.
Moana (2016)
A relatively new entry into my catalogue of favourite films, comes this story of the daughter of a Polynesian chief who sets out on a quest to reunite a goddess with her missing heart, and restore life to her native island.
I would argue the case with anyone that the soundtrack to this film blows the incredibly overrated Frozen out of the water – so to speak. Besides, you also have the joy of Dwayne 'The Rock' Johnson belting out his own song as Maui, the demi-god.
Genius.
---
FEEL GOOD / WEEPIES
The Colour Purple (1985)
If you haven't seen this film, you need to stop what you're doing and seek it out. The film follows the story of Celie; a young black girl growing up in the south and subjected to a lifetime of abuse by the men in her life, only to find a new lease of life when she meets a spirited jazz singer.
If you can get through the harrowing low points in Celie's story, the pay off has got to be one of the most uplifting in the history of cinema. Hands down.
Fried Green Tomatoes (1991)
Another weepy, this is one of my mum's favourite films and subsequently, one of mine as well.
Ultimately a story of friendship through the decades, Evelyn Couch is a middle-aged woman with no self-esteem whose married life is stuck in a rut when she meets Ninny Threadgood; an elderly lady with a lifetime of stories to share, who gives Evelyn hope.
If you have a sister, a best friend, or a close connection in your life who makes everything better, this is a film you'll relate to.
Secrets & Lies (1996)
This is a classic Mike Leigh; gritty true life. Depressing, with enough heart to keep you watching.
At the centre of the story is a young woman looking for her birth mother, following the death of her adoptive parents, and the ultimate impact this has on the lives of the central characters.
Recommended if you enjoy family drama, and don't have enough of your own to keep you depressed.
Angela's Ashes (1999)
If you're ever having a bad day at work, or feeling like life's not really going your way, pop on Angela's Ashes.
Yes, ultimately, it's a delightfully heart-warming tale of a young man's triumph over adversity, but for three quarters of it you're essentially watching a young boy struggling for survival in abject poverty where no-one ever eats, everything is piss wet through, and the parents are a massive let down.
Shirley Valentine (1989)
A dated but enjoyable story about a middle-aged woman breaking away from her humdrum married life, finding herself, and escaping for a holiday in Greece where she ends up copping off with a Greek barman.
This will always be a special film for me because it's one of my mum's favourites and – like Shirley – she's always been somewhat of a free spirit which I admire (even when she's telling everyone in every shop we visit that, once upon a time, she breastfed me…).
Peter's Friends (1992)
I have a soft spot for friendship-based stories; probably because throughout my life I've had a handful of close friendships that I've held onto and I'm a bit of a fanny when it comes to anything covering the subject of best mates.
Peter (played by Stephen Fry) is throwing a New Year's Eve party for his old university friends, including Emma Thompson, Ken Branagh, Hugh Laurie and Imelda Staunton (of course). Watching the weekend's events unfold will make you laugh, cry and cringe.
---
HORROR
Aliens (1986)
"They mostly come out at night. Mostly."
One of the few horror sequels that doesn't make you want to find the nearest sharp thing and ram it through your earhole just to give you something more exciting to do.
Interview with the Vampire (1994)
During our honeymoon road trip from the west to the south of the U.S. we were lucky enough to spend a few nights in New Orleans – the famed setting of this very film – and I was in heaven.
Based on the Anne Rice novel of the same name (and part of the Vampire Chronicles series), this film stars Brad Pitt, Tom Cruise, Christian Slater, Stephen Rea, Antonio Banderas, and a young Kirsten Dunst. The story follows Louis, a vampire 're-born' in the 18th century, as he recounts the story of his undead life to a journalist (played by Slater).
The costumes, the score and Cruise's portrayal of Lestat are my absolute favourite things about this one.
A Nightmare on Elm Street (1984)
An original and terrifying concept when it first came out, which quickly turned into an out of control franchise of not so brilliant films (although I'd still happily re-watch them, despite the cheese), this one's on my list because it's a classic that creeps me out to this day.
There are few horror icons that are as memorable as Freddy Krueger. Having had the pleasure of meeting Robert Englund at Birmingham Comic Con last year, I can also vouch for the fact that he loves playing up to his reputation as a cinematic bogeyman, and hamming it up for his fans.
Besides, how many films include Johnny Depp being eaten by a bed spread? Top marks for originality there.
An American Werewolf in London (1981)
My first exposure to this film was when I was around 9 or 10 years old.
I insisted on watching it with my mum while she did the ironing and burst into tears during the scene where Jack is hideously mauled on the moors…
Still holds up to this day as the best werewolf transformation you'll see on screen, in my humble opinion.
---
POLITICAL
All the President's Men (1976)
When the world is going to shit, and you feel like good journalism is dying, just remember that two investigative reporters once took down the President of the United States by exposing corruption in the Oval Office.
A gripping movie, and a great education if you know nothing about the Watergate scandal.
---
Misery (1990)
A writer crashes his car in a blizzard, only to be rescued by no.1 fan / stalker, Annie Wilkes, and taken back to her home to recuperate.
I won't say anything else other than if you're squeamish, you may want to turn away when Annie (played by the phenomenal Kathy Bates) picks up the sledgehammer. You have been warned.
The Shawshank Redemption (1994)
The second Stephen King adaptation on my list, this time about a wrongfully convicted prisoner whose struggle to come to terms with his life sentence at Shawshank Prison makes for a cinematic masterpiece.
Plus, you've got Morgan Freeman narrating.
You'll be jumping for joy by the time the ending comes around.
The Green Mile (1999)
I cried at three separate points while watching this film for the first time; something that hasn't even happened while watching my aforementioned weepy favourites.
We all know that Tom Hanks is a legend, but for me this is his finest role since Forrest Gump, as he plays a death row guard who befriends a mysterious inmate with healing powers.
---
ACTION
Pulp Fiction (1994)
Tarantino may get a bad rap for being a bit of a dick, but when you're cringing at his interviews on YouTube and regarding him as a bit of a narcissistic bellend, remember he gave us this incredibly entertaining film that holds up like it was made yesterday.
As the story is told out of sequence, you'll need to watch it a few times to get your head around the timeline of events, but that's part of the fun. Even Harvey Keitel's turn as Winston Wolf in the Direct Line ads hasn't put me off this one.
It's also the film that gave us this GIF. The GIF that keeps on giving…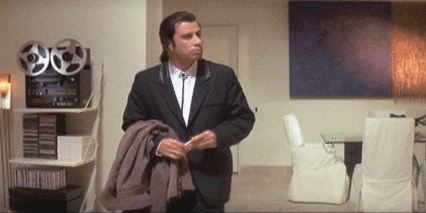 Kill Bill Volumes 1 & 2 (2003 & 2004)
Uma Thurman plays 'The Bride'. Part of an elite assassination squad that travels the world offing people in an inexplicably competent fashion (how did she manage to get a samurai sword onto a plane, when I can't board a flight with a 10ml lip balm unless it's in a plastic bag?).
Anyway, after finding out she's pregnant, she quite rightly runs away to start a new life. Only for her ex-boyfriend (Bill) to order a hit on her and her entire wedding party during a wedding rehearsal, which leaves everyone dead. Except for Uma who wakes up in a coma (again, inexplicably), having survived a bullet to the head.
If you can suspend your disbelief for four hours, both make for thoroughly entertaining revenge movies, with plenty of action.
---
GIRLIE
Mean Girls (2004)
"She doesn't even go here!"
Anyone who knows me knows that I'm not the girliest of girls. In fact, I'd say that 'girlie' films are definitely not my thing; but this Tina Fey classic never fails to make me laugh.
Enjoyable for the bitchiness, high school stereotypes, and Lindsay Lohan when she was good.
Clueless (1995)
Irrefutable proof that Paul Rudd doesn't age and never will.
Based on Jane Austen's Emma, Clueless follows popular high school show off, Cher (Alicia Silverstone), lives a charmed life in a mansion with her lawyer father and the occasional visit from the delicious Rudd (her step-brother). When she decides to make Brittany Murphy her project, turning her from 'clueless' stoner into high school royalty, she quickly realises just how shallow her life has become; and decides to work on changing it.
---
COMEDIES
This Year's Love (1999)
Few people have even heard of this one, but with a cast that includes Kathy Burke, why haven't you seen it by now?
Essentially, it's along similar lines to Closer, except it's funny, there's no Clive Owen, and I don't find every single character utterly repellent. The way each of the characters' romantic lives interlock is well done, and it deals with several issues including infidelity, rejection and mental health.
When Harry Met Sally (1989)
This film has so much more going for it than that infamous diner scene.
Not only is it a realistic depiction of just how screwed up and confusing male/female friendships can be, it features Billy Crystal at his funniest and most adorable and Meg Ryan before lip fillers.
Win, win.
Uncle Buck (1989)
"I'm Buck Melanoma; Moley Russell's wart."
A family favourite that I've been watching since I was a kid, not only is this film hilarious, it's testimony to just how brilliant John Candy was. RIP.
It's also notable as being a film (other than Home Alone) that Macaulay Culkin is actually good in.
Forgetting Sarah Marshall (2008)
Though not a classic comedy by any stretch of the imagination, this one deserves a place on my list as it's the film my now husband and I watched on our first date.
For the first few years, we watched it on our anniversary as a tradition, and he still reckons it shows how keen he was for the date to go well that he'd willingly sit through a Russell Brand film for any length of time without pulling his own eyes out with pincers.
It's essentially about one man's recovery following a particularly bad break-up with his actress girlfriend. It also provides additional evidence that Paul Rudd doesn't age and never will.
Monty Python and the Holy Grail (1975)
My first cinematic exposure to the Pythons that holds up to this day as one of the funniest films you'll ever watch. Clever, filmed on no budget whatsoever, and with the late great Graham Chapman in the lead role as Arthur, King of the Britons, it's one of the most quotable movies on this list, hands down.
Planes, Trains & Automobiles (1987)
The second John Candy classic on this list follows Steve Martin as he tries to get home to his family for Thanksgiving, and Candy as the kind but highly irritating Del Griffith, who both helps and hinders Martin's Neil Page as he desperately tries to get back to his wife and kids.
Cue cancelled flights, a car on fire, and a film that's entirely relatable for anyone who's ever felt like their life is one long series of unfortunate events.
What We Do in the Shadows (2014)
Another vampire movie, except there's no Brad Pitt, and these vampires are too busy arguing over who's going to do the dishes to lament their existence.
My mum and sister recommended this to me after coming across it by chance on Netflix, and nearly pissing themselves with delight as they watched it for the first time.
Another relatable film for anyone who's ever lived in a 'flatting situation'. Minus the vampirism.
I will openly admit I'm a bit in love with Taika Waititi as Viago. Sorry, not sorry.
The Devil Wears Prada (2006)
Having worked in journalism (albeit on a very short-term basis) I can vouch for the fact that it can be a cut-throat environment where only the strongest survive, so the set-up of this movie was totally believable to me.
I probably enjoy it so much because I can totally relate to Anne Hathaway's 'Andy' as someone with zero interest in being 'fashionable', who just wants to get on and do a good job without being judged by ridiculous standards.
I'm still not over the fact that her boyfriend is a monumental douche nozzle who offers little to no support of Andy during what is one of the most difficult times of her life, as she tries to forge a career in the industry she loves, and yet we're supposed to believe that Andy is the dick in this situation.
Same goes for her friends who use her for freebies and then judge her for trying to fit into her new environment.
Which films would make your top 30? If you've bothered to read this far, let me know in the comments.
xAx