It's not enough these days to go home of a weekend knowing that you've done a good job throughout the week and tell no-one but your husband and the cats.
Success and public profile go hand-in-hand; every good PR professional knows this.
But what about the art of PR'ing ourselves – the PR people?
In the spirit of those 'A week in my life' interviews that us office folk seem to enjoy so much, I've written my own interpretation which I hope provides an insight into the professional life of a public relations manager – should you be looking to make this career move yourself, or if you're just looking for some tongue-in-cheek bollocks to read on the commute.
Beware – this is not an extract from the annals of Samantha Jones, so if you're expecting sex, high heels, and wall-to-wall launch parties, you'll be disappointed.
---
Day 1 – Monday
The alarm goes off at 6:15am, and I press the snooze button twice, emerging from my coma at a not unreasonable 6:35am.
One bleary eyed morning wee and I'm on the landing, greeted by our two cats – Lagertha and Ivar. Lagertha gets in the bath for our morning cuddles, whilst Ivar jumps on my back. It's our morning ritual.
Takes me half an hour to shower, dress in whatever fresh clothes are available and presentable, and put on some light make-up so I can get away with walking outside looking like a human being. My other half will feed the cats as he's lucky enough to still be asleep (and works from home most days).
I arrive at work at 9:04am because there's fog and that means we all forget how to drive our vehicles like mammals with arms and digits; the M6 North has been a car park for most of the morning.
I write my to-do list. Not bad; only 15 items on the list today.
By 10:30am I've had three cups of coffee, half a glass of water, and fired off six features on soft drinks to various trade magazines on behalf of one client. I've scoured my workplan for tasks that our new starter can help with, although typically most of my workload is made up of tasks I'll need to do myself.
Lunchtime, and it's time for a somewhat pointless conference call that lasts all of six minutes; the outcome of which could've been achieved via email. Lunch is a falafel wrap made in the office and eaten at my desk.
I take a brief trip out into town for some essential teatime shopping and regret it instantly.
A potential crisis comms situation arises in the afternoon for one of our major clients, greeted by a rather nonchalant response from basically everyone else but us – most frustrating.
The drive home is accompanied by a new podcast; They Walk Among Us. All about true crime – of course.
I'm cooking a corned beef hash tonight for my mother and I, as we put the world to rights with some Rick and Morty background noise.
Final thought of the day; not heartburn again?
---
Day 2 – Tuesday
Same morning routine.
I arrive at work at 8:30am and instantly make a brew. It's Crunchy Nut Cornflakes at my desk today, because I'm not in the mood for my Fruit 'n Fibre.
I finish pulling together our 2019 proposal template for our soft drinks client, and then it's a team meet to brainstorm and delegate slides and actions. There's three of us on the account now as our indispensable and wondrous AD is on mat leave. I'm one of those incredibly sad individuals who enjoys putting together a good slide deck, so I've taken pride in this one.
By lunchtime I'm working on some Easter activity to announce the launch of a new Easter Muffin, which means there'll inevitably be samples, and the chances of me dieting in January are slim to never-gonna-happen. I'm drafting competition Terms and Conditions which, if you've ever written anything similar, makes you want to put your head through your computer screen simply for something more exciting to do.
With the T&Cs complete, now I'm checking an end of year review for another client. It was a successful 2018 despite limited budgets, little to no news available, and a multitude of barriers from people within the company who still don't quite get what we do.
I'm also an active participant in an email trail discussing the benefits of having one or two branded items on the table at an upcoming awards that another of our clients is sponsoring.
Tea tonight is a somewhat bemusing combination of breaded mozzarella from Lidl and meat free nuggets. Mainly because we couldn't be arsed with a food shop. This is followed by some writing for this very blog, and a binge-watch of the new series of The Punisher.
Final thought of the day – imagine if Frank Castle were in charge of Brexit?
---
Day 3 – Wednesday
Morning routine is the same, with another helping of They Walk Among Us for the commute. Why is the world so full of lunatics?
Fruit 'n Fibre at my desk today. Delicious, nutritious and good for the bowels.
More work on the Easter Muffin campaign throughout the morning, which includes a lovely telephone call with a retailer about the benefits of creating in-store theatre around seasonal occasions, and how it can help stores drive sales. One great thing about working in PR is that you learn about all sorts of important shit that seemingly makes the world go around, but that you would've happily remained oblivious to otherwise.
He's going to get back to me via email to answer my questions, which inevitably means I'll be chasing him come Friday.
More work on one of our other clients' awards sponsorship's. One of the magazine's wants to take them around this year's new venue which will score us some bonus points.
Writing more soft drinks features this afternoon, followed by a proofread of a clients' social media schedule (drafted by us) for February – accompanied, of course, by more coffee. I have a bladder the size of a satsuma but haven't learned a thing.
By the time 5:30pm comes around I'm ready for that spaghetti Bolognese. My sister pays me a visit at 8pm to do my nails while we watch That Mitchell and Webb Look on Netlfix and laugh our arses off.
Final thought of the day as I settle down to sleep – forgot to take my mascara off. Standard.
---
Day 4 – Thursday
Start the day with two snoozes of the alarm, and a glass of Coke Zero. Aspartame is my secret weapon.
Commute is standard with more They Walk Among Us. This time it's about the case of Brian Blackwell who suffered from NPD and bludgeoned both of his parents to death in Melling, Merseyside, before taking his girlfriend on a luxury holiday to the U.S. and leaving his mum and dad to decompose in the house over several weeks. Takes all sorts.
Yet more work on the Easter Muffin this morning. I'm starting to dream of chocolate chips. Chase the retailer as I've still not had anything back, although he did mistakenly forward me a gas bill, whilst simultaneously ignoring my email.
Couple of soft drinks features, tobacco features, and then a team meeting on some agency developments. We're freshening up with a modern look and feel, which is far more involved than it sounds. This is coupled with a good half an hour debate over the values of sending balloons or biscuits to announce the changes to clients.
Round off the day with a couple of features for our meat free client. Surprisingly I've reduced my meat intake this past three months as a result of working for them; as an avid burger eater, even I was surprised by this turn of events.
I get home around 6:30pm and it's a chippy tea tonight. Whoever invented salt and pepper chips deserves a plaque on a wall somewhere.
Finish watching The Punisher which has all the bloodshed and male showboating we've come to know and love, followed by a segue into Conversations with a Killer: The Ted Bundy Tapes. More to come on that one…
Final thought of the day – for the love of Jebus, let's book that bloody holiday tomorrow.
---
Day 5 – Friday
In a good mood this morning. Must be all the aspartame.
Feed the cats before setting off for work bright and early as I'm on a flexi today. Carlsberg don't make working hours, but if they did, I reckon 8am starts – 4:30pm finishes would be up there with the best of them.
Pick up three McDonald's lattes on the way for the three of us that are working from the office today.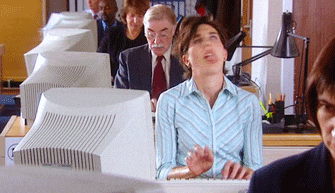 Start off the morning by reviewing a magazine audit that one of the creative agencies has done for our soft drinks client, followed by another chase of our retailer friend I've been trying to reach all week. Manage a 15-minute telephone interview before finishing off our Easter Muffin press release with his quote and getting final approval. So that's progress.
Final review of another of our clients' budgets for 2018, before we close the accounts. I am not unhappy about never having to look at this spreadsheet again.
Next up is a work in progress (WIP) email to one client which goes every Friday, before our call the following Monday is inevitably cancelled their end due to scheduling conflicts. A WIP is basically like the seventh circle of hell, in which you recount all the things you're still waiting on which are summarily ignored. At best you'll cross off one to three items per week; essentially, it would be an effective use of time, if time were abstract and had no purpose.
End of the day is spent drafting a news release, compiling all our weekly updates, and drafting up my workplan for the following week, so I know exactly what to expect next week and have the entire weekend to contemplate it.
Early finish at 4:30pm, accompanied by a brand new episode of All Killa No Filla which has me laughing like a crazy woman, and scaring other drivers,
The Lidl booze run before heading off to Chris and Liam's to book our holiday seems like the perfect end to another chaotic week.
If you've read this far, you probably deserve to know that we've booked Mykonos for our week away.
Only 48 hours 'til Monday. Bring it on.
xAx